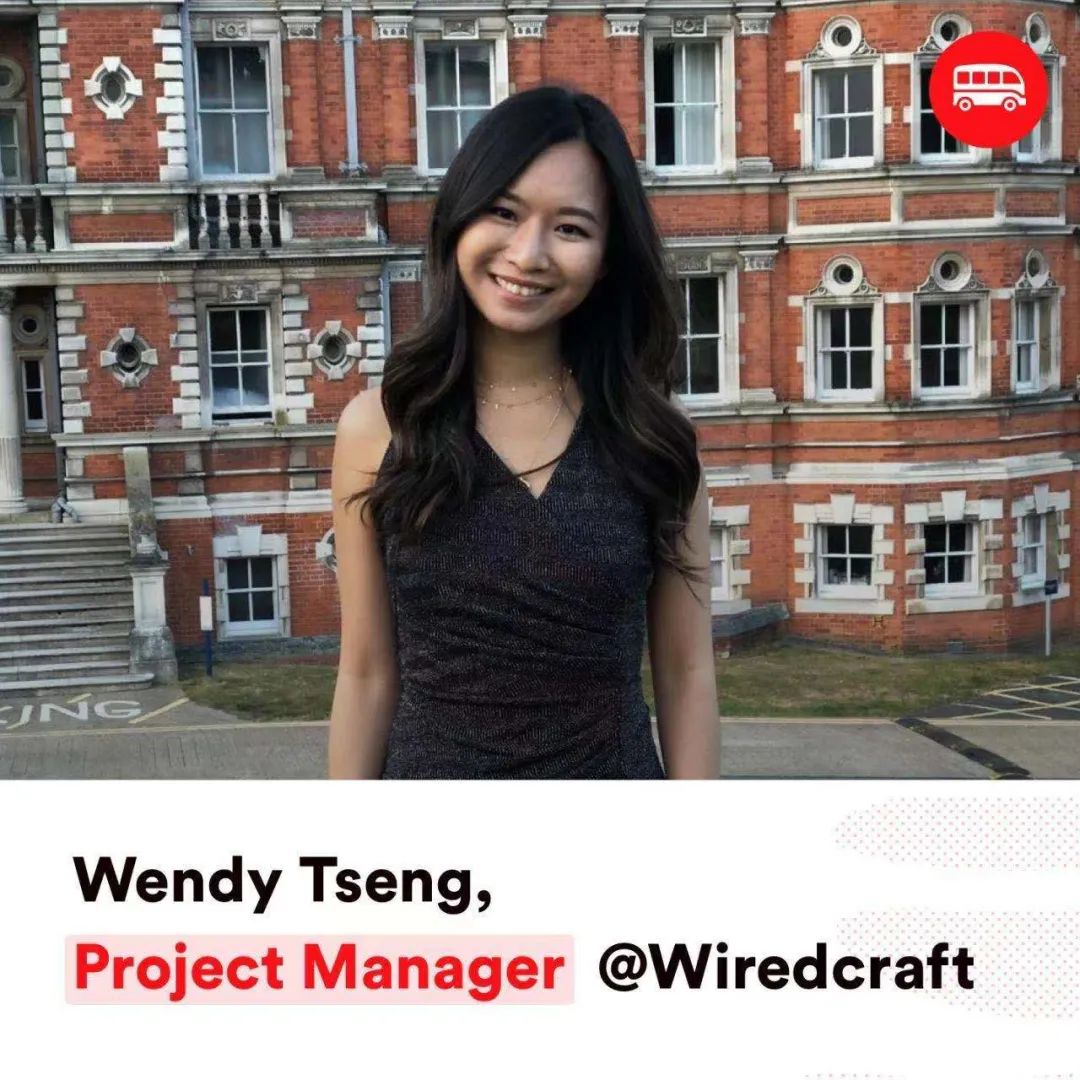 在 le wagon 沃耕学习的学员来自与各个地方,除了热爱科技行业,大多数人都有一个特点,就是他们的经历非常多样,文化背景独特,对不同文化和地区有很包容的心态。今天要向大家介绍的 Wendy 就有非常丰富的经历,研究生毕业后来到上海 le wagon 参加全栈式网页开发课程,
训练营2020年12月结束后3个月就找到了她自己想要的工作,成功从市场营销转型进入科技行业,成为了一名项目经理。
我们不禁好奇,是什么让她这么快找到了转型的工作。Wendy 很谦虚的说觉得自己很幸运。具体她是怎么做到的?让我们从 Wendy 和 Le Wagon 沃耕的故事里找到答案把!
Coming from different culture and background, students at Le Wagon created a community with inclusivity and open-mindedness. Wendy, who I want to introduce today, has a very rich experience in her education and career. After graduating from graduate school, she came back to Shanghai and joined our full-stack web development bootcamp. In three months after graduating the bootcamp, she successfully transformed from marketing into the technology industry and became a project manager.
We can't help but wonder what made the process so quick? Wendy said humbly that she felt very lucky. How did she do it? Let us hear about it!
可以向大家介绍一下自己的学习和工作经历吗?
Could you please introduce your background?
我出生在台湾,在加拿大长大。从不列颠哥伦比亚大学(University of British Columbia )获得市场营销学士学位后,我移居上海,为加拿大商会(CanCham)工作。在为商会工作期间我主办了上百个活动。
I was born in Taiwan, raised in Canada. After I graduated from University of British Columbia with a Bachelor of Commerce degree in Marketing, I moved to Shanghai to work for the Canadian Chamber of Commerce (CanCham). I have hosted more than 100+ events.
在上海生活了三年以后,我决定搬去伦敦,去英国伦敦大学皇家霍洛威分校攻读数据分析硕士学位。毕业后我仍旧想要做科技相关的工作,所以选择了回上海,拥抱这个新兴产业高速发展的地区。尽管面对着很多不确定性,我还是选择适当冒一些险挑战自己。
After 3 years in Shanghai, I have decided to move to London, UK to pursue a Master's degree in data analytics at Royal Holloway, University of London.
However, determined to transition from marketing & community to tech, I decided to come back to Shanghai after graduation and immerse myself in the fast-paced dynamic of technology development in Asia. Though faced with a lot of uncertainty, I still took the risk and came.
在亚洲,欧洲和北美三个地方打磨专业能力后,我形成了自己的待人处世的方式和价值观,鼓励着自己朝着谦虚且积极向上的方向努力。
With professional experiences expanding across Asia, Europe and North America, I have developed my own value and outlook which motivates me to be more humble and confident.
你是怎么知道 Le Wagon 沃耕的?
How do you get to know Le Wagon?
是我一个从市场到科技转型成功的朋友推荐给我的。他/她的经历鼓励到了我,所以我决定来上海参加 Le Wagon 沃耕编程训练。在伦敦的时候我收到的工作邀请仍旧是活动、社群相关的,但我坚信科技已经渗透到生活和工作的方方面面,我也非常想要参与到技术创新的风浪里来。
I came to know Le Wagon through a friend. He/she managed to transition from marketing to technology and recommended Le Wagon Shanghai to me. So his/her advice and successful experience encouraged me to join Le Wagon shanghai to study programming. Back in London, I have received several offers from companies there. However, technology has/will become an inevitable part of our personal and professional life and I feel strongly motivated to become part of the technology innovation.
Le Wagon 的经历是怎么帮助到你职业发展的?
How did the le wagon experiences and learnings help your career?
通过在Le Wagon学习的编程的基础,我有机会探索了技术行业的不同领域,例如技术项目管理,UI / UX设计,小程序开发,并通过这些找出了我感兴趣的地方。现在的工作我仍旧会遇到一些陌生的术语和概念,还是会翻阅以前在Le Wagon 沃耕学习的资料,复习一遍或是重新学习一遍。
By learning the foundation of coding at Le Wagon, I was given the opportunity to explore the different areas of the tech industry, for example, tech project management, UI/UX design, Mini-program development - and find out where my interest lies. Right now, I still go back to my notes during the Le Wagon bootcamp when I encounter unfamiliar jargons or concepts.
通过 le wagon的介绍,我找到了我现在的工作!找工作的过程是辛苦的,Le Wagon 的职业辅导和人脉圈子让整个过程更加顺利。
Through le wagon connection, I found my current job at wiredcraft. Job searching can be tough but Le Wagon helped me go through the process more easily.
你现在是什么岗位?在这个岗位会遇到一些什么挑战吗?
What is your role now? What kind of challenges are you facing?
我在一家数字咨询公司担任技术项目经理。我们为国际品牌提供数字化转型策略,并根据其业务需求提供本地化的高科技产品。我的工作更像是客户和我本公司工程师之间的桥梁,我将客户的需求传达给开发团队,我把开发团队遇到的一些问题,用外行听得懂的方式传达给我们的客户。
技术行业对我来说还比较新,因此在工作中会遇到很多陌生的技术术语或概念。在Le Wagon沃耕9周的培训教会我怎么去找资料,怎么解决问题,怎么请教更专业的人,这让我的工作更加顺利。
I work as a tech project manager in a digital consulting firm. We provide digital transformation strategies to international brands, and localized tech products according to their business needs. My work bridges the communication gap between our engineering team and our clients. I translate the requests of our clients into technical workflows to the engineering team and translate problems our engineering team encountered into jargon-free conversation to our clients.
Since I am relatively new to the tech industry, I encounter a lot of unfamiliar tech jargons or concepts at work. A lot of times I needed to go back to the notes I took at Le Wagon bootcamp to help my current work. Besides that, thanks to my 9 weeks training at Le Wagon, I developed a good idea of how to search and who to ask.

您会为转行进科技的小白提供什么可行的建议,以帮助他们开始科技之旅?
What would you be piece of actionable advice for beginners/transitioners to help them get started their journey in tech?
不要害怕寻求帮助!Le Wagon沃耕拥有强大的支持团队,强大的专业知识储备的导师,才华横溢的助教和友好的同学。
Don't be afraid to ask for help! Le Wagon has a strong support group consisting of knowledgeable instructors, talented TAs, and friendly classmates.
在训练营上课期间,我每天都向别人请教很多问题,有些难题一开始你眼里看来好像无解,但是只要你愿意去提问,你会发现其实并没有那么难,也可以解决。
I was known as "the girl that asks a million questions a day" during the bootcamp. But you will be surprised how easily a "unsolvable bug" in your eyes can be fixed if you simply just ask.
你认为,当今女性在科技行业的优势是什么,以及女性如何更好地利用其优势在行业中取得成功?
In your opinion, what are the advantages for women to be in tech industry nowadays and how women can better leverage the advantages for them to succeed in the industry
我不太认同性别特定的职业优势,因为我相信女性和男性的个体差异大于性别差异,性别不能定义什么,每个人都有自己的独特的优势。
不过的确,据统计,当今世界上只有不到0.5%的人知道如何编程,其中70%至90%的人都是男性。因此,我希望所有的人从小到大都能获得平等的学习机会,鼓励他们每个人都探索STEM行业。
I don't like to be gender specific, as I believe women have as many advantages to leverage as men to begin with.
However, statistics estimates are that less than 0.5 percent of the world's population knows how to code today, and somewhere between 70 and 90% of those are male. Therefore, I do hope kids can receive equal learning opportunity/encouragement to explore the STEM industry when they grow up.
Are you ready to learn coding?
Subscribe to our WeChat account for more course info
校友联系方式
Wanna connect with Wendy?
领英/Linkedin:

https://www.linkedin.com/in/wendytseng622/